Index of Works

Site Map

---

| | | |
| --- | --- | --- |
| | Sterberegister der Berliner Standesämter 1874-1955. Landesarchiv, Berlin. A digital image is available through Ancestry (subscription required) | |
| | | |
| | | |
| | Wiener Theater-Chronik IV/48 (27 November 1862), 3. | |
| | Salzburger Zeitung, Amtsblatt, 1863/34 (8 April 1863), 5. The announcement of the sale was repeated on 5 and 8 May. | |
| | Unfortunately the Deutscher Bühnen-Almanach does not list forenames or initials and in the 1863 volume two actresses are listed as 'Frl. Lingg': in 1864 the actress at Regensburg is identified as 'Frl. Lingg-Viktorin'. | |
| | The theatre orchestra consisted of musicians hired from the 'städt. Schützenkapelle'. | |
| | The orchestra was expanded for performances of operettas. | |
| | This was a post he shared with a Herr Schwarz. | |
| | [Linzer] Tages Post V/73 (1 April 1869), [3]; V/75 (3 April 1875), 5. | |
| | The other Kapellmeister was a Herr Klerr. | |
| | The I. Kapellmeister was Adolf Müller who was responsible for opera and operetta | |
| | The other Kapellmeister was a Herr Federmann. | |
| | Neuer Theater-Almanach ... Zweite Jahrgang (Berlin: Georg Nauck (Fritz Rühe), 1891), 192 | |
| | | |
Franz Viktorin (c.1830–1888)
The unsigned review of what was probably Mahler's earliest public appearance as a pianist, on 13 October 1870, concluded with the comment:
| | |
| --- | --- |
| Wenn des angehenden Künstlers früherer Lehrer, Herr Kapellmeister Viktorin von dem gestrigen Succeß hören wird, kann er sich seines Zöglings gewiß recht herzlich freuen. | If the budding artist's former teacher, the conductor Viktorin, hears of his success yesterday, he can certainly feel very pleased with his pupil. |
| Der Vermittler [Iglau], 16 October 1870 (KBM, 148) | KBME, 150 |
As one of Mahler's earliest music teachers, Franz Viktorin (the alternative spelling 'Victorin' appears in many contemporary sources) had a brief but important role in Mahler's education, but little was previously known of his career. However it is now possible to sketch in some aspects of his life. His death certificate¹ records that he was born at Kamnitz (now České Kamenice) in northern Bohemia, the son of Joseph Victorin and his (un-named) wife, and that he died at the age of 56 on 8 April 1888 in Berlin. However, the obituary that appeared in the Deutsche Bühnen Almanach gives his age at the time of death as 58:²
| | |
| --- | --- |
| Franz Victorin, Kapellmesiter des Friedrich-Wilhelmstädtischen Theaters zu Berlin, ist daselbst nach längerer Krankheit am 8. April gestorben. Victorin war bereits Kapellmeister bei Direktor Fritzsche, als dieser noch in Hamburg das Carl Schultze-Theater leitet und ist auch vom beginn der Berliner Direktionsthätigkeit Fritzsche's an als Dirigent mit dem unermüdlichsten Pflichtteifer thätig gewesen. Die auswärtigen Gastspiele der Friedrich-Wilhelmstädter haben meistentheils unter Victorin's musikalischer Leitung stattgefunden. Victorin, aus Prag gebürtig, war ursprunglich österreichischer Militärkapellmeister. Als umsichtiger Orchesterdirigent trat er sehr rühmlich am deutschen Theater in Pest unter Albin Swoboda hervor. Nach mehreren weiteren Engagements in Oesterreich führte ihn sein Weg über Hamburg nach Berlin. Sein liebenswürdigen humanes Wesen hat ihm in der Theaterwelt und allen andern Kreisen, die mit dem trefflichen Manne in Berührung kamen, viele Freunde erworben. Er ist nur achtundfünfzig Jahre alt geworden. Eine Herzbeutelentzündung, der sich ein Lungenkatarrh zugesellte, setzte seinem Leben früher ein Ende, als man bei der sonst zähen und festen Natur des Mannes erwarten durfte. Er hinterläßt nach fünfundzwanzigjähriger glücklichster Ehe eine tieftrauernde Wittwe, Emma Victorin, geb. Link [recte: Lingg], die Künstlerin, die am Friederichstädtischen Theater mit Elise Schmidt in der betreffenden Partien alternirte. Alle Liebe und Verehrung, die sich der Dahingeschiedene bei Lebzeiten zu erwerben gewußt, kam gelegentlich seiner Beerdigung zum ergreifenden Ausdruck. | Franz Victorin, Kapellmeister of the Friedrich-Wilhelm Städtische Theater in Berlin, died there on April 8th after a long illness. Victorin was already conductor with director Fritzsche when he was still in charge of the Carl Schultze Theatre in Hamburg, and from the beginning of Fritzsche's work as a director in Berlin he worked as a conductor with the most tireless diligence. The foreign guest performances of the Friedrich Wilhelmstadter company took place mostly under Victorin's musical direction. Victorin, born in Prague, was originally an Austrian military bandmaster. As a judicious orchestra conductor, he made a very good impression at the German theatre in Pest under Albin Swoboda. After several other engagements in Austria, he made his way to Berlin via Hamburg. His amiable humane nature has made him many friends in the theatre world and in all other circles which came into contact with the excellent man. He was only fifty-eight years old. An inflammation of the pericardium, which caused pulmonary catarrh, put an end to his life earlier than one might expect given the man's otherwise tough and firm nature. After twenty-five years of happy marriage, he leaves behind a deeply grieving widow, Emma Victorin, née Link [recte: Lingg], the artist who alternated at the Friederichstädtischer Theater with Elise Schmidt in appropriate roles. All the love and admiration that the deceased knew how to acquire during his lifetime found moving expression on the occasion of his funeral. |
That Viktorin's early career was spent in Austrian military bands is consistent with the earliest documentation of his subsequent career which records him in charge of the music provided for visitors to the Austrian Spa town of Ischl, a task commensurate with his prior experience:

Fig.1
Ischler Bade-Liste, 2 June 1860, 2
It is notable that he is not listed among the staff of the Ischl Theatre, which was managed by the K.K. Theater in Salzburg, for the 1859/60 season,³ so may have been employed in Ischl only for the 1860 summer season (June–September); the following year he was listed as the Kapellmeister in Ischl, and the Fremden-Liste, 4 June, detailed the Cur-Musik schedule: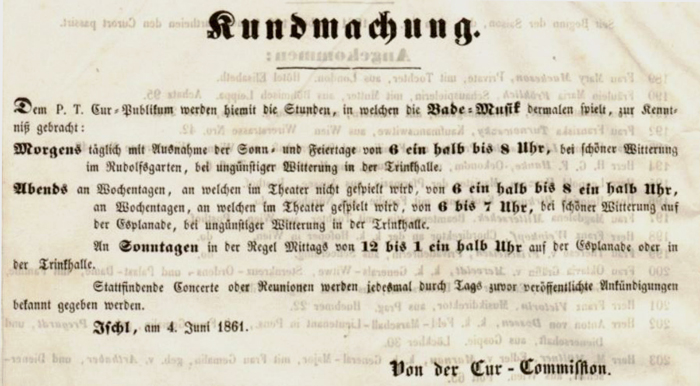 Fig. 2
Clearly the Cur-Orchester, and/or its conductor were unavailable when there was a performance at the Theatre where Viktorin was presumably responsible for music in plays and operettas. (Such was to be Mahler's schedule during his first post as Kapellmeister, at Bad Hall in 1880.)
Viktorin: Civilian Appointments
| | | | | | | |
| --- | --- | --- | --- | --- | --- | --- |
| Dates | Place | Theatre | Orchestra | Chorus | Post | Source |
| 1860 | Ischl | | ? | | [Kapellmeister] in Ischl | Ischler Bade-Liste, 2 June 1860, 2 |
| 1861 | Ischl | Ischl | ? | 18 | [Kapellmeister] in Ischl | |
| 1862 | Ischl | Ischl | ? | ? | [Kapellmeister] in Ischl | |
Unfortunately what is not clear is whether Viktorin's appointment was limited to the summer season in Ischl, or also included work at the Salzburg theatre during the winter months. Whatever the case, in the autumn of 1862 his engagement to Emma Lingg (Link), a singer and actress at the Salzburg Theatre, was announced.⁴ However, there is evidence that financially Viktorin was in some difficulty and it was reported in the Salzburg press that under a judgement handed down on 25 August 1862, music of his to the value of 114 fl. 30 kr. had been seized, to be auctioned to pay off debts totalling 47 fl. Unfortunately reports of neither the original court hearing, nor the outcome of the sale, have been traced. However, the contents of the collection were summarised as consisting of 29 Overtures, 23 Potpourris, 32 Waltzes, 20 Quadrilles, 34 Polkas, 10 Arias and 4 Marches.⁵ The loss of performing material that presumably formed the basis of the Cur-Orchester's summer repertoire must have been a blow, and no record of Viktorin working in a German theatre during the 1862/3 season has been traced.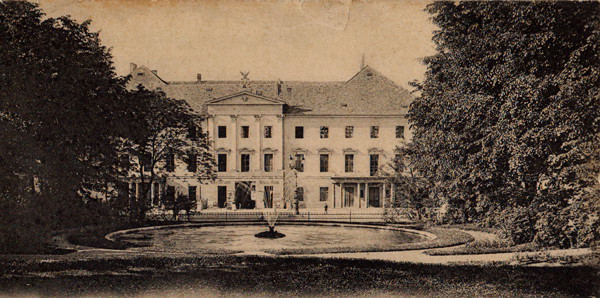 Fig. 3
Postcard: Regensburg Stadt-Theatre and Restauration "Neues Haus"
In the meantime Emma Lingg had moved to the rather larger municipal theatre in Regensburg for 1862/3⁶ and by the following season she had been joined by and had married Viktorin. In 1864 the couple moved to Iglau to appear at the theatre there:⁷
| | | | | | | |
| --- | --- | --- | --- | --- | --- | --- |
| Dates | Place | Theatre | Orchestra | Chorus | Post | Source |
| 1863/4 | Regensburg | Stadttheater | 33 | 20 | II. Kapellmeister | |
| 1864/5 | Iglau | Städtisches- theater | 20 | 20 | Kapellmeister | |
| 1865/6 | Iglau | Städtisches- theater | 18 | ? | Kapellmeister | |
In 1866/67 the management of the Iglau theatre was transformed: the previous director, Johann Ziegler, was replaced by Johann Edler v. Radler, the owner of the summer theatre at Vöslau (Bad Vöslau, Lower Austria). The two theatres were run as a unit, new personnel (including music staff) imported, members of the Radler family took on stage roles, and the orchestra was reduced to fifteen. Inevitably such drastic changes had serious consequences for many members of the existing company and the Viktorins are not listed at any German theatre for this season. It is possible that they remained in Iglau, taking on whatever work they could find, including, in Franz's case, teaching the very young son of a local distiller, Bernhard Mahler. In the event von Radler's regime was not a success, and Ziegler and members of the earlier company – including the Viktorins – returned, though for only one season: in 1868/69 Ziegler (with his wife) and the Viktorins moved to the theatre in Budweis (České Budějovice):
| | | | | | | |
| --- | --- | --- | --- | --- | --- | --- |
| Dates | Place | Theatre | Orchestra | Chorus | Post | Source |
| 1867/8 | Iglau | Städtisches- theater | 16⁸ | ? | Kapellmeister | |
| 1868/9 | Budweis | Stadttheater | 18⁸ | ? | Kapellmeister | |
| 1869/70 | Krakow, Teschen, Bielitz | Vereinigte Theater | 18 | 12 | I. Kapellmeister⁹ | |
| 1870/71 | Bielitz, Krakow, Warschau | Vereinigte Theater | 24 | ? | Kapellmeister | |
In early 1869 Emma also made guest appearances at the Landschaftliches Theater, Linz, appearing in the 'Local-Posse mit Gesang' Hammerschmiedin aus Steyermark (Suppé) and Der Verschwender (Raimund and Kreutzer).¹º In 1869 Franz and Emma moved to Bielitz where both joined the company, before Franz migrated to Pest 1871 where he worked at various German theatres. Emma appears to have 'rested' until she joined the Deutsches Theater in der Theresenstadt (Pest) in 1873. This company was in the process of expanding and although for a couple of years Franz was only the second Kapellmeister he was presumably able to gain experience conducting larger ensembles than earlier in his career. In addition their contracts with the company gave them both a degree of continuity after nearly a decade of short-term appointments.
Dates

Place

Theatre

Orchestra

Chorus

Post

Source

1871/72

Pest

Fürst's Theater

20

12

Kapellmeister

1872/73

Pest

Deutsches Aktientheater

?

29

Kapellmeister¹¹

1873/74

Pest

Deutsches Theater
in der Theresenstadt

24

19

Kapellmeister

1874/75

Pest

Deutsches Theater

36

22

II. Kapellmeister¹²

1875/76

Pest

Vereinigte Deutsche Theater

50

34

Kapellmeister der
Operette u. Posse

1876/77

Budapest

Deutsches Theater
in der Wollgasse

42

41

Kapellmeister

1877/78

Budapest

Deutsches Theater

42

54

Kapellmeister

1878/79

Budapest

Deutsches Theater

38

36

Kapellmeister
The downsizing of the orchestra and chorus at the Deutsches Theater in Budapest for the 1878/79 season may have reflected other changes: whatever the circumstances, the Viktorin's left and joined a much smaller company:
Dates

Place

Theatre

Orchestra

Chorus

Post

Source

1879/80

Temesvar

Franz-Josef'-
Theater

22

20

Kapellmeister

1880/81

Hamburg

Carl Schultze-
Theater

26

42

I. Kapellmeister

1881/82

Berlin

Friedrich-Wilhelmstädtisches
Theater

32

34

Kapellmeister¹³

1882/83

Berlin

Friedrich-Wilhelmstädtisches
Theater

32

38

Kapellmeister¹³

1883/84

Berlin

Friedrich-Wilhelmstädtisches
Theater

31

51

Kapellmeister¹³

1884/85

Berlin

Neues Friedrich-Wilhelmstädtisches
Theater

31

48

Kapellmeister¹³

Deutscher Bühnen-Almanach, 1885, II/81

1885/86

Berlin

Friedrich-Wilhelmstädtisches
Theater

31

48

Kapellmeister¹³

Deutscher Bühnen-Almanach, 1886, II/83

1886/87

Berlin

Friedrich-Wilhelmstädtisches
Theater

34

95[!]

Kapellmeister¹³

Deutscher Bühnen-Almanach, 1887, II/83

1887/88

Berlin

Friedrich-Wilhelmstädtisches
Theater

42

70

Kapellmeister¹³

Deutscher Bühnen-Almanach, 1888, II/85
The move to Hamburg was particularly fortunate because when the director of the Carl Schultze-Theater, Julius Fritzsche moved to Berlin in 1882, Victorin was able to follow him and take up a high profile position in which he remained for the rest of his life. Emma did not immediately continue her career in Berlin, but in 1890/91, after Franz's death, was at the Thomas-Theater during its opening season.¹⁴ No further details of her later career have been traced.