Wiener Volksausgabe - Jos. Eberle & Co.
Planning for the series must have begun some time before the first volumes appeared. Announcements appeared in the Oesterreichische Buchhändler-Correspondenz (later, Österreichisch-Ungarische Buchhändler-Correspondenz [OUBC]), and the Hofmeister Monatsbericht; in the list below the titles are given as they appear in Hofmeister.
The listings were not made quite systematically, and one volume (the first of Schubert Lieder) was not announced in either publication. As the failure of the project became apparent Eberle moved quickly to minimise losses, selling the Beethoven edition to Augener in London and the Schubert and Lanner editions to Breitkopf & Härtel: the Hofmeister announcement of the Breitkopf reissue of the Schubert volumes appeared in October 1889. The Czerny and Cramer editions were apparently unsaleable: both had come out of copyright in Germany at the end of 1887, and all the major German publishers had already prepared their own editions.
Copies of the Eberle issues are extremely rare: indeed the only copies examined so far are of volume 12 of the Lanner editions (GB-Lpc) and volume 1 of the Beethoven Sonatas, edited by Mandyczewski (GB-Eu Tov. 206/2); the Augener re-issue is also rare (copies are held at GB-Eu), but the Breitkopf & Härtel issues of the Lanner edition are more widespread and were subsequently reprinted by Broude Brothers (1973).
Composer

Title

OUBC Listing

Hofmeister listing

Reissued

Czerny

Op. 139, 100 Uebungsstücke f. Pfte, Zu charakteristischen Vortragsstücken umgearbeitet u. m. instruktiven Zeichen versehen v. Hans Schmitt.

14.01.1888

02.1888

Czerny

Op. 299, Schule der Geläufigkeit: 40 Uebungen f. Pfte, Theilweise umgearbeitet u. m. Fingersatz versehen v. Hans Schmitt.

14.01.1888

02.1888

Czerny

op. 740, Die Kunst der Fingerfertigkeit. 50 Studien f. Pfte, Revid., theilweise umgearbeitet u. m. Fingersatz versehen v. Hans Schmitt.

14.01.1888
02.1888

Lanner

Sämmtliche Werke f. Pfte, nach den Originalen bearb. v. Eduard Kremser, Lief. 1–3. Lief.

14.01.1888

02.1888

Breitkopf & Härtel

Lanner

Sämmtliche Werke f. Pfte, nach den Originalen bearb. v. Ed. Kremser, Band I (Op. 1–25), Lief. 4 (Op. 26–32)

11.02.1888

14.02.1888

03.1888

Breitkopf & Härtel

Beethoven

Sonaten f. Pfte, Nach G. Nottebohm's Aufzeichnungen revid. v. Eusebius Mandyczewski, 3 Bände

vol. 1:
11.02.1888

vol. 3:
14.04.1888

04.1888

Augener & Co.

Schubert

[Volume I: Schubert-Lieder-Album. Lieder u. Gesänge... (Die schöne Müllerin. Winterreise. Schwanengesang. 22 Lieder verschiedener Dichter)]

–

–

Breitkopf & Härtel

Schubert

Schubert-Album. Sammlung sämmtlicher Lieder f. 1 Singst. m. Pfte v. Franz Schubert. 2. Band. 75 Lieder f. S. (od. T.) Nach den ältesten Ausg. revid. v. Jos. Stritzko

09.06.1888

06.1888

Breitkopf & Härtel

Lanner

Sämmtliche Werke f. Pfte, nach den Originalen bearb. v. Eduard Kremser. 5. u. 6. Band

07.07.1888

07.1888

Breitkopf & Härtel

Czerny

Kleine Etüden ohne Oktavenspannung f. Pfte aus Op. 636, 718 u. 749 zusammengestellt, revid., theilweise umgearbeitet u. progressiv geordnet v. Hans Schmitt. 3 Hefte

01.09.1888

09.1888

Lanner

Sämmtliche Werke f. Pfte, nach den Originalen bearb. v. Eduard Kremser. 7. Band (Op. 106–117)

01.09.1888

09.1888

Breitkopf & Härtel

Lanner

Sämmtliche Werke f. Pfte, nach den Originalen bearb. v. Ed. Kremser. 8. Band (Op. 118–128)

05.01.1889

11.1888

Breitkopf & Härtel

Lanner

Sämmtliche Werke f. Pfte, nach den Originalen bearb. v. Eduard Kremser. 9. u. 10. Band

–

02.1889

Breitkopf & Härtel

Czerny

84 Etüden f. Pfte, revid. u. m. Fingersätzen versehen v. Hugo Reinhold. 4 Hefte

–

03.1889

Cramer

Etuden für Pianoforte, revidirt von Hugo Reinhold in 1 Band …Dieselben, Ausgabe in 4 Heften

23.03.1889

–

Lanner

Sämmtliche Werke f. Pfte, nach den Originalen bearb. v. Ed. Kremser. 11–13 Band

04.05.1889
25.05.1889

05.1889

Breitkopf & Härtel

Lanner

Sämmtliche Werke f. Pfte, nach den Originalen bearb. v. Eduard Kremser. 14. Band

22.06.1889

06.1889

Breitkopf & Härtel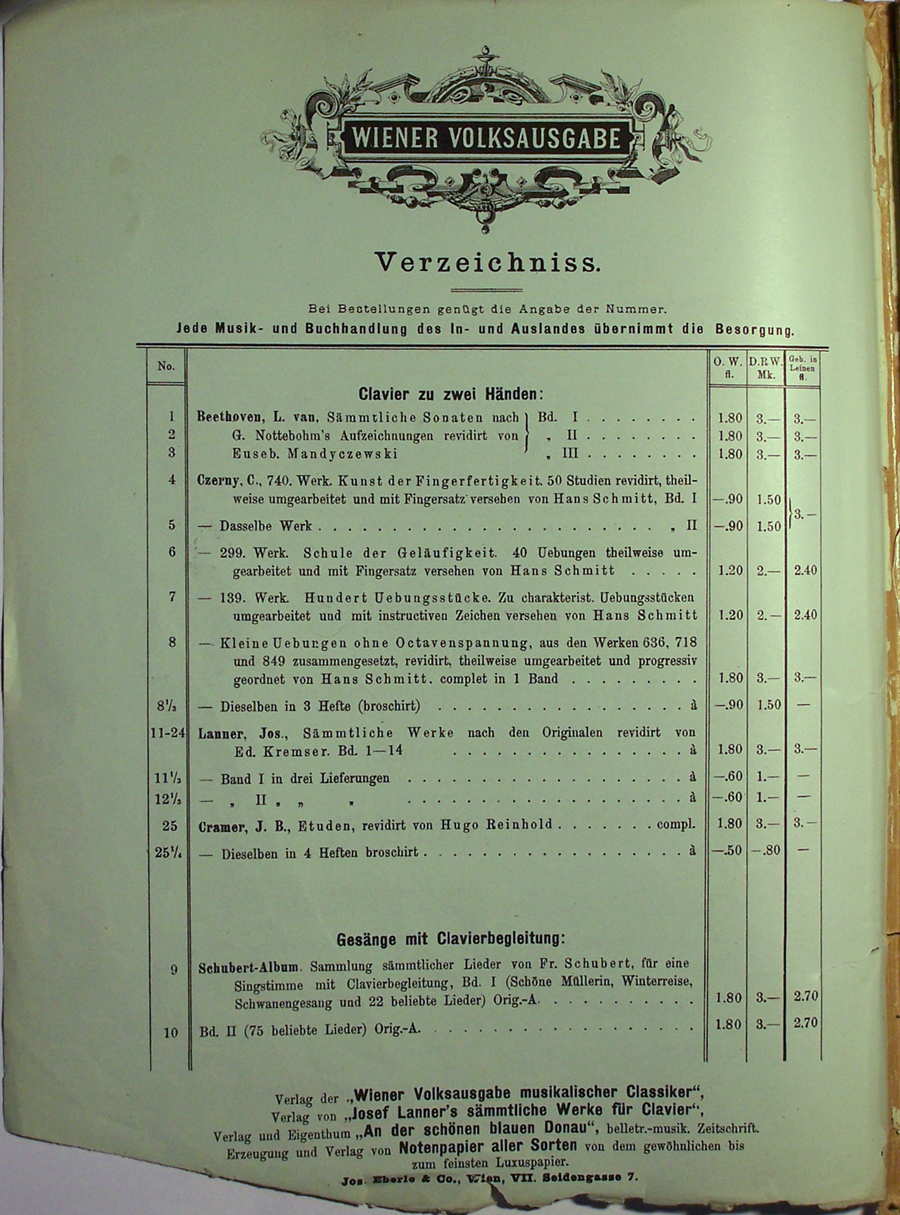 Fig. 1
Wiener Volksausgabe - complete listing
Lanner, Sämmtliche Werke, [Band 12], (Vienna, 1889)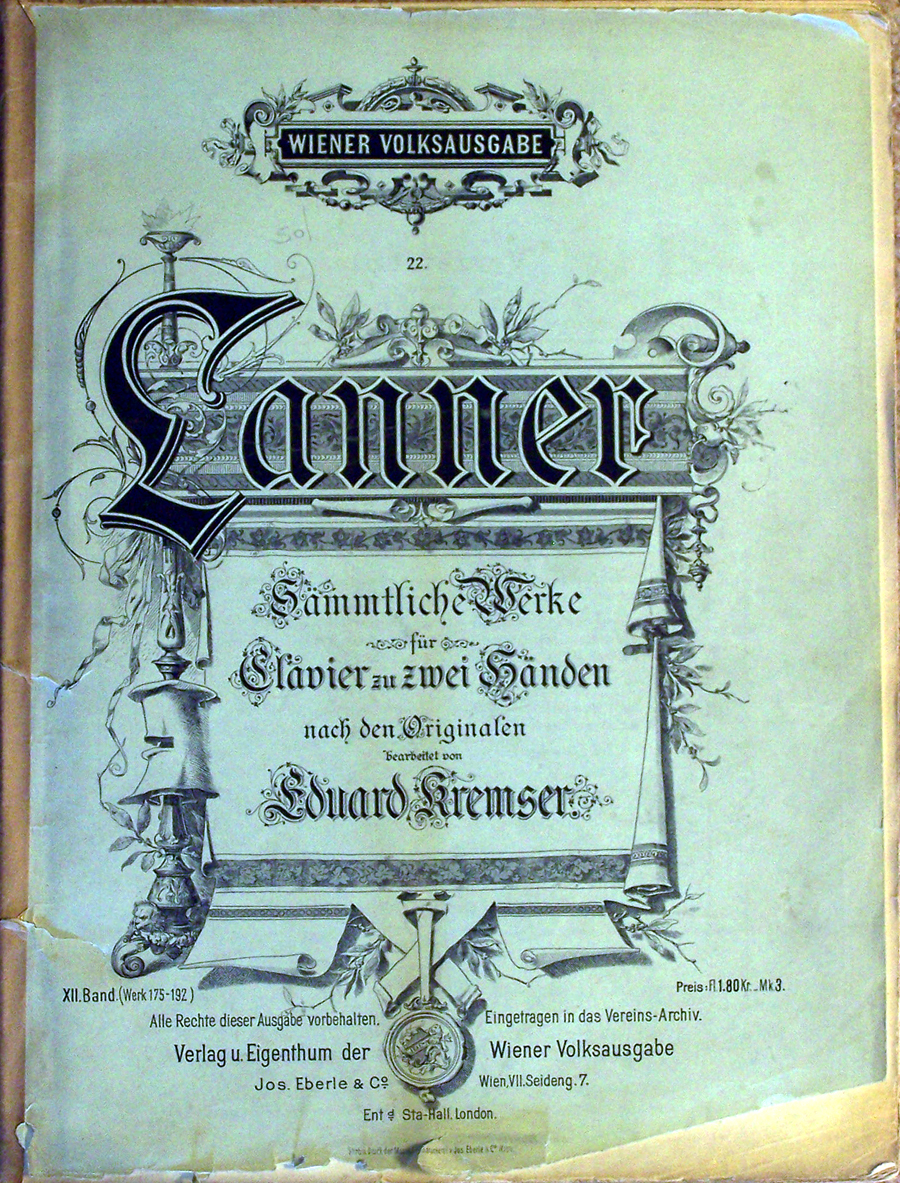 Fig. 2
Wiener Volksausgabe - front wrapper
Lanner, Sämmtliche Werke, [Band 12], (Vienna, 1889)